Phase 3 of the Marvel Cinematic Universe kicks off in 2016 with Captain America: Civil War, the first of ten films in the space of four years. While most of these already have directors attached, there are still four films that are yet to have this information be announced. These are Thor: Ragnarok, Black Panther, Captain Marvel and Inhumans. Here at Third Act we love speculation, so here are a few suggestions of who we think could direct each of these upcoming Marvel films.
Thor: Ragnarok
Kenneth Branagh
This is a tricky one. The Thor franchise has already had two directors in the form of Kenneth Branagh and Alan Taylor. A lot of people would say that while those films had some good elements, the fact that neither of them has been invited back for a sequel says a lot. I personally wouldn't mind seeing Kenneth Branagh return, as I think he's a very talented director. While it's not exactly comparable, his work in Cinderella was excellent, and that entire film looked spectacular. Also, I think most of the issues with his Thor film was with the script, which gave him a very limiting story to work with.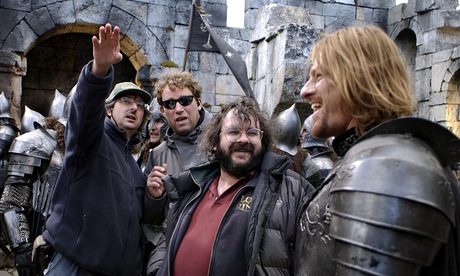 Peter Jackson
Another director I think could work very well for this film is Peter Jackson. The reasons for this are pretty obvious. He directed some of the greatest fantasy films of time in The Lord of the Rings trilogy, as well as two good Hobbit films. Yes, his films are often too long, but he knows how to make you care about lots of character, and I feel like nobody can direct epic action as well as him. Imagine his classic sweeping shots in the climax of the film, as an army of Asgardians does battle with an army of Frost Giants, and the demon Surtur slaughters his way through endless waves of tiny men. Sounds good, right?
Baz Luhrmann
This is a slightly more outside choice. He's not a director that's known for either action or fantasy films, but I think he would suit the Thor franchise for a number of reasons. Firstly, his films have a great balance between drama and comedy. They often start with fast paced, laugh a minute, eyeball-burning jump cuts, but by the end, he cranks up the emotion like only a great director can. He's also responsible for one of the best modern Shakespeare adaptations, in the form of Romeo + Juliet. This quality is what got Kenneth Branagh the job in the first place, and it really suits the franchise. Also, a lack of experience directing action hasn't hurt directors working in the MCU in the past.
Black Panther
Gareth Evans
For me, there's only one choice for this film. For anybody that hasn't seen The Raid and The Raid 2, what are you doing reading this article and not watching The Raid films? I mean, now you're here, you might as well stay, but watch them once you're done. He films hand to hand fighting like no other director working at the moment does. You see and feel every punch, and Black Panther needs to be shown as a ruthless physical combatant who can easily take down normal men. It's not just the action, as he also knows how to direct a good dramatic story. Evans is also not a huge name, so he would fit in with the choices Marvel have been making so far.
Neill Blomkamp
Blomkamp might not seem like an obvious choice, but let me explain. All of his films have a particular aesthetic, which is more or less desert city in disrepair, which could suit some of the sections of Wakanda, the country Black Panther is from. On the other hand, he often has futuristic technology in his films (mainly weapons), especially in Elysium, which would definitely fit with the technologically advanced aspects of Wakanda. On top of this, he knows how to put together great action, and as long as he's rained in with casting choices, he could be an excellent choice to direct Black Panther. 
Andy and Lana Wachowski
Ok… give me a chance to explain. Here's a duo that knows how to direct all kinds of action. They've shown this with hand to hand fighting in The Matrix, and with bigger sci-fi action scenes in Jupiter Ascending and Cloud Atlas. No matter what you think about those last two films, they looked excellent and had brilliantly action. If these two are ever going to make a good film again, they would need somebody to keep them in check, and by working with Marvel this could do the trick. They're also big fans of everything genre, and would no doubt treat this film with a lot of respect.
Captain Marvel
Kathryn Bigelow
Something a lot of people don't often think about with Captain Marvel is that she was in the military. Kathryn Bigelow has directed two of the best modern war films in recent years, one of which was nominated for the best picture Oscar, and one of which won the Oscar for best picture. While these films are great, I'm not sure if she would be able to work inside the Marvel system, or if she has the comic sensibilities to make a film that feels like part of the MCU.
Luc Besson
Luc Besson is one of the busiest people working in the movie industry, and while his filmography has been a little hit and miss recently, he has some great films under his belt. The Fifth Element, Léon: The Professional and La Femme Nikita are all brilliant, and while these are all not quite a recent as we would like, he's also been responsible for writing and producing some excellent action films in more recent years. Something else that links a lot of his films is powerful female characters that are not stereotypes.
Lexi Alexander
Possible the director with the most experience with comic book properties on this list, Lexi Alexander directed one episode of Arrow, but more importantly, she directed what's, in my opinion, the best Punisher film to date, Punisher: War Zone. While she may not fit particularly well into the Marvel studio system, she could no doubt handle a powerful character with the respect and responsibility Captain Marvel deserves.
Inhumans
Brad Bird
Director of the best Fantastic Four film ever made, The Incredibles, Brad Bird is already an in-house talent at Disney. Having worked with them on multiple (excellent) animated films, he's since made the jump to live action. He directed the recent sci-fi film Tomorrowland, which had mixed reception but certainly had its fans, and the excellent Mission Impossible: Ghost Protocol. All of his films have well-done character relationships, and he knows his way around an action set piece.
George Miller
Now here's a man who knows how to make a great film, and a great range of films. Most recently Mad Max: Fury Road, a film about a strange variety of characters, including a man who barely speaks and just wants to do the right thing, and a woman who cares strongly about her people. Sound familiar? He's also been involved in the Babe and Happy Feet franchises, so… that's a thing.
Joss Whedon
Ok, hear me out. Joss Whedon has come out recently and said some less than favourable things about working with Marvel, but since then, there have been some big changes. If you don't know, what it basically comes down to is that there's now one less studio head to answer to, one who was potentially one of the trickier people to work with. While this is purely speculation, it could open the door Whedon returning, and what better place would there be for his return than in the director's chair for Inhumans? He's great at group dynamics, and could get the post-infinity war MCU off to a great start.
What do you think of our choices for the future Marvel Cinematic Universe films? Do you have any suggestions of your own? Share any thoughts in the comments.